Location

Thailand

Job ID 01QUF
Closing date N/A
Role Title

Sales Executive II, TH

 

Function & Department

Sales

 

Reporting Leader

Sales Manager

Location

TH

 

Grade

-

Date created

September 2020

 
ROLE PURPOSE
Contribute towards the profitable growth of industrial business with a specific focus on developing in Rayong province for existing (portfolio) and acquiring new business contracts (e.g. multinationals).
Primary focus is on building effective relationships within account portfolio of high opportunity accounts to gain a clear understanding of current and future needs and drive significant incremental sales.  There is also a need to identify and support other opportunities for growth in the territory in conjunction with the wider sales and marketing teams.
KEY ACCOUNTABILTIES
Use reporting insights and customer data to provide quarterly business forecasts, highlight new opportunities, review contract performance against target and identify sales planning to secure contracted revenue.
Develop and leverage constructive relationships within target accounts to gain access to key decision makers and establish a partnership and increase our supply status.
Through taking a consultative approach Sales Executive needs to frame the procurement challenge our customers face so as to demonstrate the long term value a partnership approach can create.
Facilitate business meetings with our customers to align the customer's strategy, highlight their true business needs to create a contract which all areas of the business are engaged to deliver.
Provide monthly reports on targets, KPM, customer activity, market forces and competition
Develop an internal and external network of business partners, fostering good team work within a best practice environment
Develop knowledge of RS's product ranges, technologies, sales practices and value added services
Maybe required to support and cover line manager in times of absence.
PEOPLE RESPONSIBILTY
No Direct Reports
KEY RELATIONSHIPS
•             Line Manager & Sales Team
•             Departmental Managers
•             Other department team members as required
DIMENSIONS
Responsible for achieving Sales, growth and GM targets
           Responsible for driving sales in other Elite Account sites within a specified geography
COMPETENCY & SKILLS
Customer Focus:     
Ownership of customer enquiries, make decisions with the customer in mind, exceed customer's expectations, keeping the customer informed/updated.
High Performance:
Meeting KPIs and deadlines, able to work under pressure, result oriented, take accountability for own decisions and actions, problem solving skills, multi-tasking, work independently.
Working Together:     
Team player, excellent communication skills, proactively build relationship with internal and external customers to deliver excellence.
Respect:
Acting professionally at all times, active listening skills, respectful to internal and external customers, open for feedback.
Dynamic:
Flexible and adaptable to change, adopt continuous improvement, work under pressure.
ENVIRONMENT
Working base in customer area Rayong province and RS office.
Travel required as per client requirements
PERSON SPECIFICATION
Technical experience in Automation and Control and/or sales experience with Manufacturing.
Understand Tyre process and can use our part to solve customer problem
Self-motivated with an ability to work independently in a remote areas and able work on own initiative
Results driven, with focus on profit margin
Commercial awareness, particularly around cost of acquisition/profitability and procurement trends
E-commerce knowledge/experience is preferable
Sales and negotiation skills and techniques
Sale Engineer experience.
The ability to cross reference products using specifications and technical parameters
Excellent verbal and written communication and interpersonal skills
Strong planning, prioritisation and time management skills
Customer focused attitude (internal and/or external).
Demonstrate the ability to build and maintain internal and external relationships at all levels.
Fluent in speaking and writing English
ADDITIONAL INFORMATION OR CONDITIONS OF THE APPOINTMENT
Compliance with company Code of Conduct, policies and quality procedures.
Does not disclose information to others and respects confidentiality of sensitive information.
Keep Team Leader and/or Manager informed of disputes and actions that could possibly affect the brand of RS Components Pty Limited.
Identify complaints and escalate them immediately to Team Leader and/or Manager.
Notify your Manager of any hazards by completing the Hazard Report Form.
Notify your Manager of any accident, incident or near miss and complete the Health & Safety Accident Report.
Characteristics for success
We are a transforming business. And we're growing to serve and inspire our customers even more. To forge a successful career here, you'll need to:
Take the initiative
Think differently
Become the best
Focus on people
Work together
Culture
We place a strong emphasis on investing in our people, our best asset, enabling them to be customer focused at all times and exceeding their expectations. This is because our customers are at the heart of everything we do. So we look for people who have a strong belief in, and commitment to exceeding customer expectations, people who have pride and belief in their company.
In return we offer a positive and supportive culture which ensures that together we can help our customers do great things.
Passion

Integrity

Innovation

Collaboration

Accountability

Aspiration
In the 8 years I've been here, lots of opportunities for career progression and recognition, if you take ownership of it. Great strategy to take the business into the future. Some really talented people, who are great to work with. Clear direction of expectations, vision and purpose. Good working environment. A lot of investment in their people with lots of opportunities available.

John Min,

Lead Support Engineer China, IT Operations
Rewards and benefits
As well as a competitive salary, you can look forward to a valuable set of benefits, depending on your location, that look after your financial and physical wellbeing. These include:
Medical

Professional Development

Maternity and Paternity Leave

Life and Disability Insurance

Cafeteria

Awards & Recognition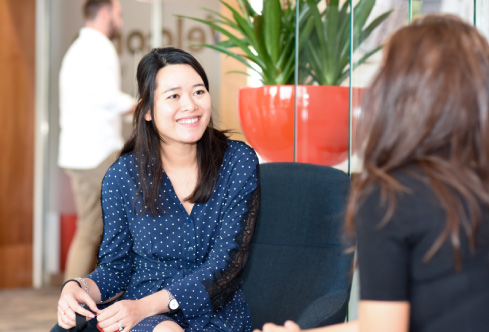 For digital dreamers and tech innovators
Work with a rich ecosystem of websites, delivering solutions and improving functuationality on a daily basis. You'll have the opportunity to influence the development of our customers' user experience, and make it the best in the industry. Join us in our journey to revolutionise the way we do business and strengthen our position as the destination for electronic products and components.